In compliance with FDA Menu Labeling Requirements, nutritional information can be added to your menu boards in just a couple of steps. We've added a step by step video below as well as a step by step guide.
(FDA labeling examples. Source PDF: Menu Labeling: Supplemental Guidance for Industry)
Method 1: Adding Calories from the Product Detail
1) Click on 'Products' from the navigation.
2) Click on each individual product and click on the 'Nutritional' tab at the bottom of the page.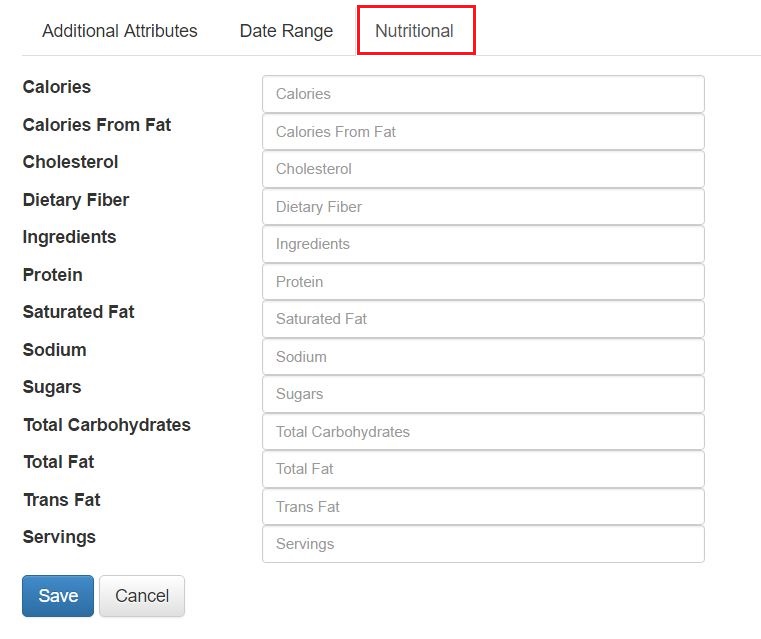 3) Click 'Save'.
Method 2: Adding Calories to a Product Spreadsheet
1) Click on the 'Upload or Download Products' tab. Check the box for 'Nutritional', then click 'Download':
2) Open the excel spreadsheet and locate the Nutritianal columns needed.
3) Save the excel. Then drag and drop the file into the upload box, or click on the upload box to locate the file on your computer.
Step 2: Add Cells to Your Layout to Display Nutritional Information
1) Go to 'Layouts' from the Home page and open the 'Designer'.2) Click on the zone and then click on the Price cell in the toolbar.
3) Select 'Add Cell to Row'.
4) Click on the new cell to apply the attribute we want to pull from our products. Click on the 'Field' drop down. There are options for Calories, or suffix of Cal, depending on how you would like your calorie information to show.
Click 'Apply' to save your changes.
5) Next, add a style to the new cell by clicking on the cell and clicking Cell Style. If the styles are right or left justified this will also help with the adjusting the cells where you want them. You can adjust the cell spacing by increasing or decreasing the cell width percentages.
Once this is done your layouts will automatically pull nutritional information into the product table for layouts that are set up this way.