EngagePHD is a supported app on the latest Amazon Fire TV devices, allowing you to use a Fire TV device as a digital signage media player. The steps below outline installation of the app, as well as use of a free utility app call adbLink to help scale content.
Please note: Portrait mode is not supported by Fire TV devices.
---
Install EngagePHD APK
1) Using the IR remote controller, from the Home screen menu, go to Settings > My FireTV  > Developer Options.
2) Turn on Apps from Unknown Sources.
3) Go to the Amazon app store and search and install an app called "Downloader".
4) Open the Downloader App type in the URL: https://go.engagephd.com/engagefire.apk
5) click on the GO button.
6) Enter the DeviceID when prompted.
---
Using the adbLink Utility
Amazon Fire TV uses scaling for apps and requires a 3rd part utility to adjust scaling settings. We recommend adbLink.
1) Download the utility to your computer:
2) On your Fire TV device, go to Settings > My FireTV > Developer Options > Adb Debugging > ON
From the My FireTV section, under About, make note of the devices IP Address.
3) After you download and install adbLink to your computer, open the program and click on the New button, provide a description of the Fire TV device, add the IP address and select 'Save':
4) Select your device and click 'Connect':
5) you should see a message appear on your Fire TV asking you to "allow USB debugging." Check the box to 'Always allow from this computer' and click 'OK':
6) Once the connection is complete, click on the 'ADB Shell' button. A command prompt window should open: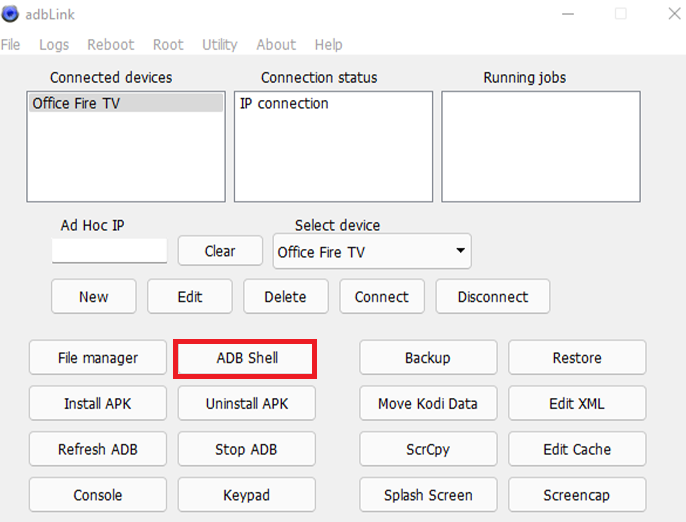 7) From the command prompt window, type in the following commands (press the Enter key after entering each line):
kara:/ $ wm size 1920×1080
kara:/ $ wm density 160
You should see your Fire TV scale after entering these commands.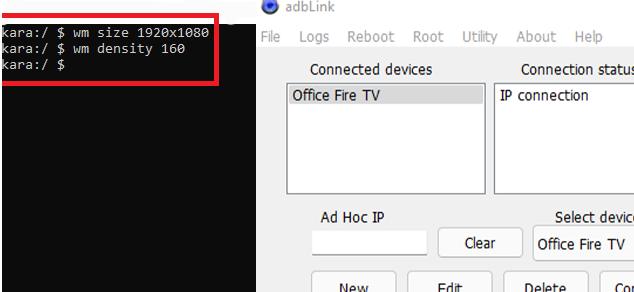 8) From this utility, you can also turn off sleep mode and screensaver by going to the Utility menu and selecting 'Set Timers':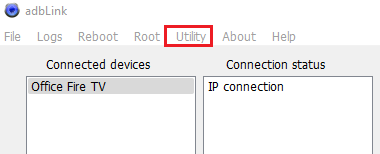 9) Select 'Sleep Off' and 'Screensaver off' then click 'OK':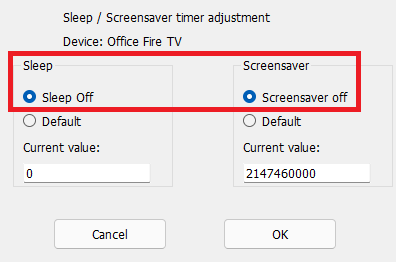 You can now close the adbLink utility.