Before adding a playlist to a layout, you will need to first create a playlist. Please click here for steps on creating playlists. After a Layout is created, it can be Scheduled to Players. When a Layout is Scheduled to a Player it overrides any previously scheduled content, such as Layouts or Applications.
---
1) From the Home page click on 'Layouts'.
2) Click on the 'Designer' icon for the layout you would like to add your playlist to.
3) Assuming you have followed the instructions above to create your playlist, click on the 'Add Playlist' icon from the toolbar. This will add a new zone: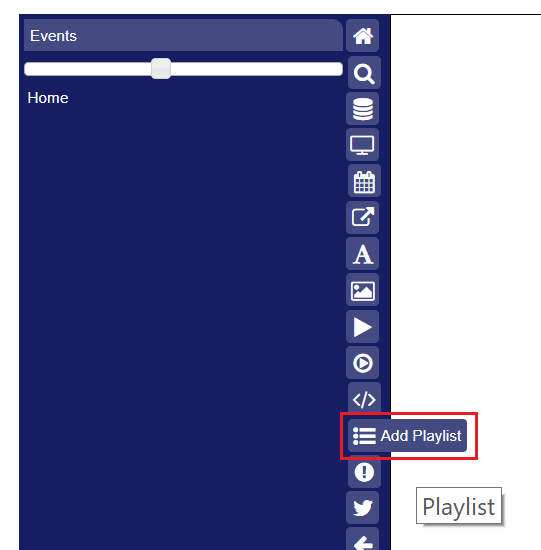 4) Click on the new zone to expand its layer and select the playlist you wish to add from the Playlist dropdown:
5) Click the 'Apply' button to attach the playlist to the zone: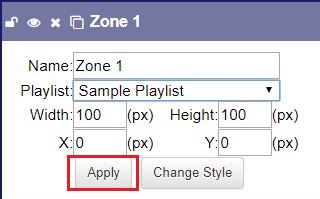 6) Click and drag the boarders of the zone to size it and move it where you want it in the layout, or use the Width and Height fields in the layer to size the zone by pixels (full screen would be 1920×1080 for landcape, and 1080×1920 for portrait).
7) Playlist content will not show in the Layout Designer, you will need to preview your layout to see content. Do preview, click on the 'Preview' icon from the toolbar and select the size you want to preview: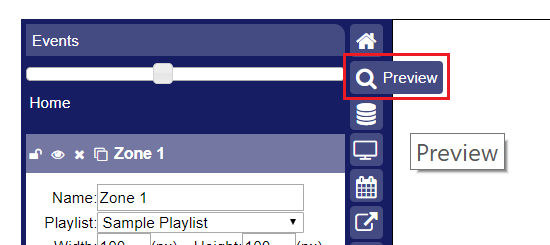 The Layout Design will automatically save your changes, but it is recommend that a Force Update is sent to the Player(s) that are using this Layout.