Copying layouts is a quick way to create multiple layouts without having to create new layouts from scratch. Copying layouts also allows you to create a new layout to Schedule at a later date.
Layouts can be copied in the same network or from one network to another. This feature is available only to network Admins.
Layout zones
Text in text zones
Styles
Images
Videos
Widgets and configuration
Text in scrolling widgets
Font files
Playlists will copy from the master layout, but you will need to create/duplicate the playlist on the network you are copying the layout to. You will also need to upload any images or videos to the network you are copying layouts to and add those files to the playlist and attach the playlist to the copied layout. (Follow steps 4 and 5 from How Do I Add A Playlist To A Layout)
1) From the Home page, click on the 'Layouts' icon.
2) Click on the 'Properties' icon for the layout you would like to copy:
3) Click on the 'Copy Layout' tab:
4) Select the settings you require:

Copy Products – When checked, this will copy any products on the layout that have been added from the Product Library. If this is left unchecked, products will not copy from one network to another, but the Product Table in the layout will keep its structure.
Copy Widget Configuration – When checked, this will copy widget properties and settings as part of the new layout.
New Name – You can give your layout a new name if you would like it to be different from the layout you are copying.
If you have access to more than one network, you will see each network name with a check box. This allows you to copy the layout to more than one network at the same time: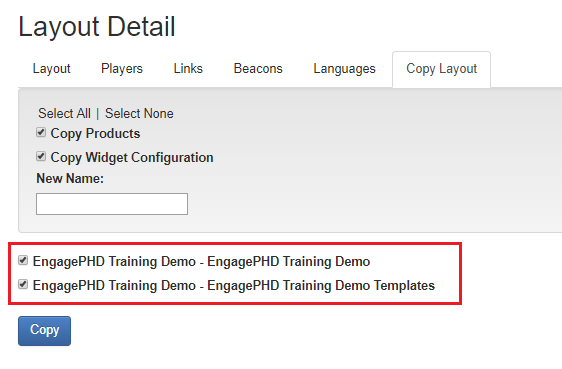 5) Click 'Copy' when done. The page will refresh when the copy process is complete.
Once your new layout has been created, follow these steps to Schedule the new layout to your players: Scheduling Layouts