Offline Alerts allow you to receive an automated email notifying you of any players that go offline. When a player is offline, this means that the player is either powered off or has lost internet connection, preventing it from communicating with the software and performing Health Checks or Content Checks.
---
Click on the 'Settings' icon from the Home page.
Click on the 'Alerts' tab and click 'Continue'.
Check the box to 'Enable alerts' and choose how often you would like to receive an email if players are offline (24 hours is the default setting).
Click 'Save'.
Alerts can be turned off anytime by un-checking the 'Enabled' check box.
---
Enable/Disable Alerts for Specific Players
If you do not want to be alerted of specific offline players, you can exclude individual players from being reported:
1. Go to the Players section and click on the player you would like to exclude.
2. Uncheck 'Alert when offline'
3. Click 'Save'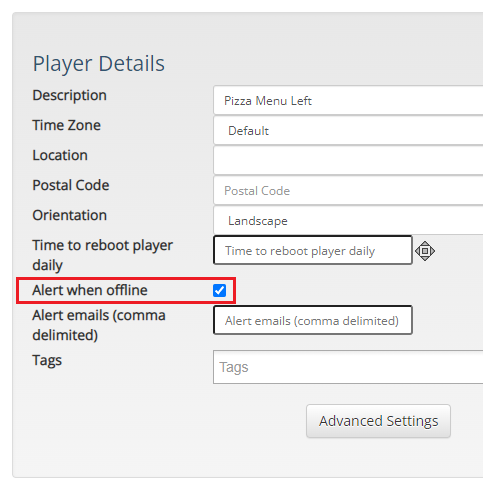 ---
Alerts for Non-EngagePHD Users
Offline player alerts can be enable for non-EngagePHD user email addresses to receive an email alert in the event that specific Player is offline.
1. From Players, click on a player name to open the player details
2. Add the email address of the person you would like to receive offline alerts for that player (use a comma to add multiple email address)
3) Click 'Save'