This powerful new feature allows users to connect directly to Samsung Tizen displays from within the Player record and control the screens settings with the IR Remote Control emulator as if you are actually there in person in front of the screen, regardless of where you are in the world. Furthermore our EngagePHD App doesn't need to be running on the display to achieve this.
Network Requirements / Firewall Configuration to use Samsung Remote
If you do want to lock down your firewall, then the following needs to be allowed through your firewall for Samsung Remote to work.
samsung.engagephd.com – 104.239.186.97
Allow Ports 7001 & 7002
---
Screen Configuration
1) Using the IR Remote, press the Menu button
2) Go to Network > Server Network Settings:
3) Select Connect to Server: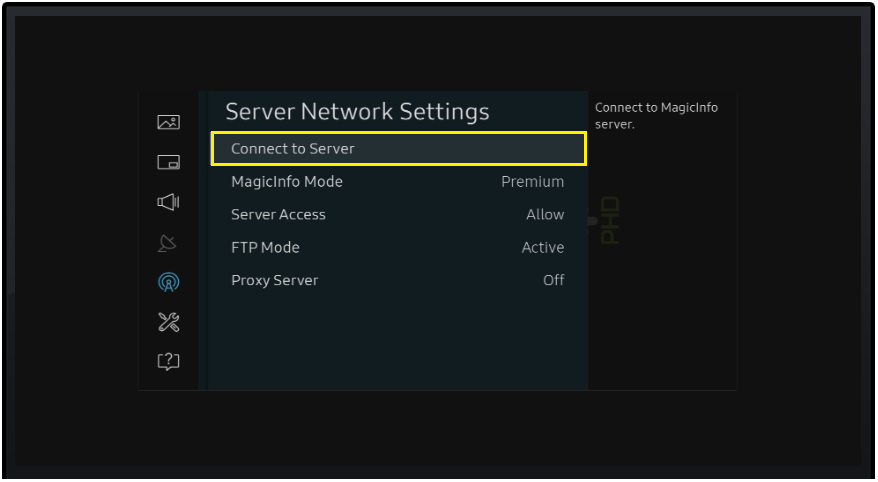 4) Enter Server Address: samsung.engagephd.com:
SSL should be set to Use
Port should be set to 7002
5) Save and exit the Menu, or you can power the screen Off/On to restart the app.
---
Using the Remote Control from the Player Record
Once the IR Remote Control emulator has been added to your network, you will find remote controls from the Player Record under the 'Tizen' tab.
Click on the 'Remote Control' button to start your remote session.
Use the remote buttons to navigate.
Click 'Disconnect' when you are done with the remote session.