The Following steps will walk you through Scheduling Applications to your players.
---
1) From the navigation, click on 'Applications' and 'Schedule':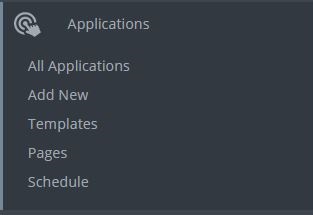 2) Select the Application you want to schedule:

3) Pick out the Groups or individual Player(s) you want to Schedule the Theme to and click '​Next'
4) Select 'Schedule Now' or 'Select Date/Time' if you want to Schedule this Playlist to playback at any time in the future.  Click 'Save'.
5) Create the schedule of when you would like content to start playing and when you would like content to end. Content to show on end allows you to select the action the player(s) should take when the schedule hits the End Date and Time.