The 'Settings' icon from the Home page main menu provide options specific to your network:
Within the Network properties you have three tabs, Network, Alerts and Integration.
---
Network Tab
The Network tab allows you to define:
Contact – This is the Network point of Contact; the best person to contact for any support questions or concerns.
Time Zone – Default time zone for the Network (Note: each Player can be set in a different time zone).
Message for no event – A default message that will appear on screen in the situation where no event is in progress.
Coming Up Event Text – You can also change the row summary color will a defined HEX code.
Loading Message allows you to change the message that appears when the Samsung SSP screen loads content (This is currently only available on Samsung SSP D and E Series displays).
Default Playlist – Allows you to set the default playlist for all players on your network.
Default Playlist Seconds for Images – This global setting allows you to define the default seconds for each image asset in a playlist. The default time is 10 seconds. If you change this setting to 30 seconds, all image assets added to a playlist will play for 30 seconds, unless changed from the settings of each individual asset.
Product Playlist Seconds – The is setting allows you to change the rotation timing of images in a Product Playlist.
Map – The Map allows you to define the location of your players, which can then be viewed in the 'Map' section from the Home page.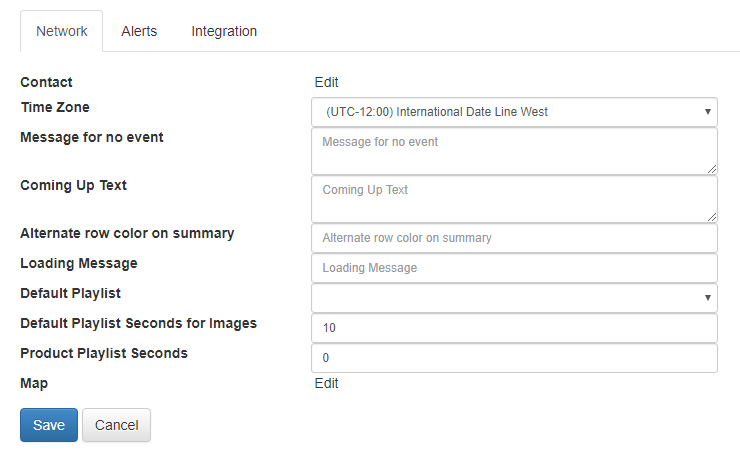 Alerts Tab
The 'Alerts' tab is where you are able to subscribe to automated email alerts that are sent out when a player has been offline for the user definable period of time. You can also set up alerts to notify when there's a black screen as well as screen temperature and price change.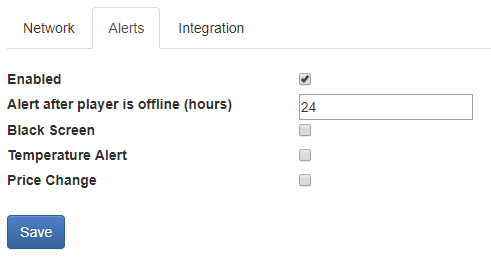 Integration Tab
The 'Integration' tab is where you are able to define the attributes where we have integrated with 3rd party systems like POS. The example below is for Bypass Mobile where you simply need to enter the API from Bypass Mobile. This will then automatically pull in your products from the Bypass Mobile POS system.