Once an asset has been added to the Asset Library, you can click on the asset and open the Media Detail. From this page you can manage the asset by setting Tags, Deleting the asset, Applying the asset to multiple products, or setting a Scheduled Start and End Date/Time. This is also where you can set up Wayfinding for your asset.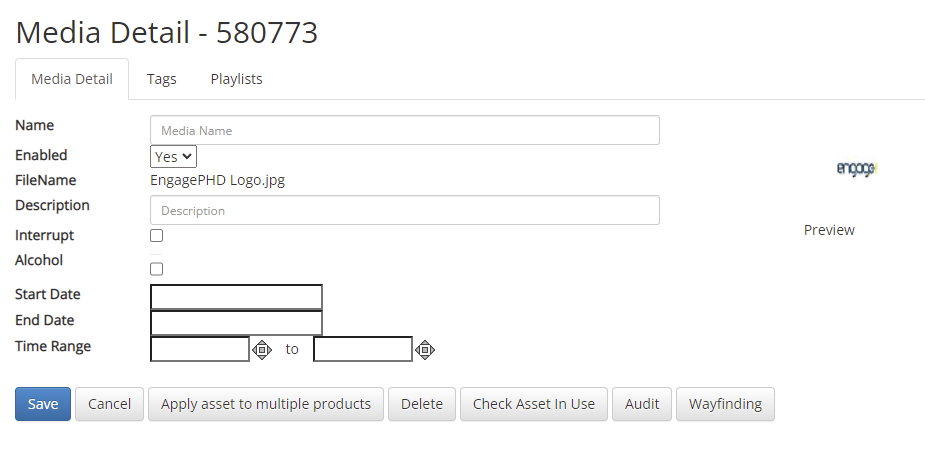 The Name and Description can be added as notes to your asset.
Enabled allows you to make the Asset active or inactive in your Asset Library. Please also see: Enable or Disable Assets
The Interrupt and Alcohol check boxes allow you to define whether or not the asset will be associated with each action.
The Schedule allows you the ability to define a Start Date/Time and an End Date/Time to allow users to control at an Asset Level when an Asset can be used within a Playlist or Layout.
'Apply asset to multiple products' button allows you to add the asset to multiple products. This is particularly useful if multiple products are using the asset in a Product Playlist.
The 'Delete' button will delete the asset. However, you will be prompted to remove the asset from a layout or playlist if the asset is currently in use by either.
Wayfinding can be used in layouts or Touchscreen Pages to create an interactive  experience for users. The steps below will walk through creating your Wayfinding application. Please also see the step-by-step video for a full tutorial experience.
---
Tags Tab
Asset Tags can be created to organize your assets. This also creates a Folder which helps you sort your assets. Please see: Asset Sub Folders/Tags
---
Playlists Tab
'Current Playlists' will show any Playlists where the asset is currently active.
'Insert asset into Playlists' allows you to select multiple Playlists to asset the asset to. Check the Playlist(s) and then click 'Save' to add the asset to multiple Playlists at once.