A Recurring Schedule is ideal for when dayparting is needed for layouts (menu boards would be a good example).
Before creating a Recurring Schedule to automate your theme changes, be sure that you have added a Theme to each layout you will be scheduling, and ensure that each layout has been added to the Layouts tab. Click here to learn how to add Themes to Layouts.
---
Creating Layout Themes and the Recurring Schedule
Managing the Recurring Schedule
1) Click on 'Players' from the Home page and select the player you would like to set up or modify your Recurring Schedule.
2) Click on the 'Layouts' tab to confirm that the themed layouts have been added.
3) Click on the 'Recurring Schedule' tab to view/modify existing schedules, or click 'Create New' to set up a new schedule.
4) Select the 'Theme' to schedule. If the schedule needs to recurring on certain days of the week, check the box for those days.

The schedule can be changed any time. Be sure to click 'Save' to save your changes.
Applying a Recurring Schedule to Multiple Players
1) Once a Recurring Schedule has been created and saved, you can open the schedule again and will see an 'Apply to Multiple Players' button. This will allow you to select the players you would like to copy this schedule to.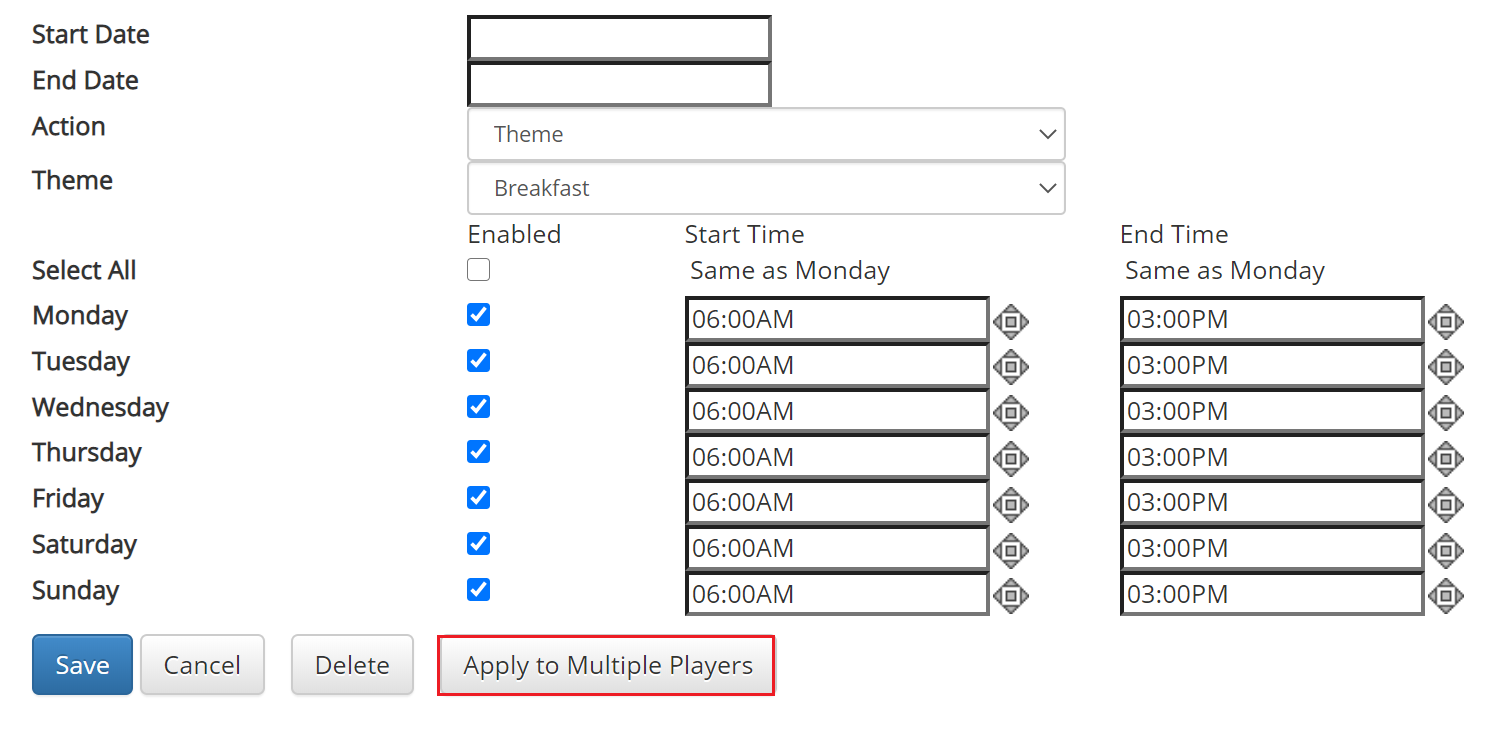 2) Click on the players to highlight them in blue.
3) Click the Process button to apply the schedule to these players.
4) You can now click on the players, click on the Recurring Schedule tab, and view/manage the schedule.
---
Creating Recurring Schedules Using Playlists
Similar to Recurring Schedules using Layouts, playlist can also be used to create a recurring schedule using Layouts or just Assets (images or videos).
Layouts or Assets (images or videos) within a playlist can be scheduled to only play when you schedule it to player. The steps below will help walk through setting up conditional playback for your assets.
​1) Clicking on the 'Properties' icon will allow you to set Asset specific playback attributes that affect just that Asset: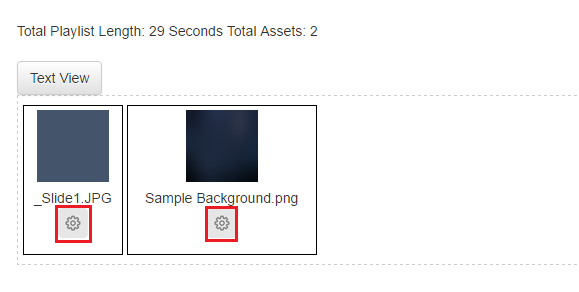 2) The order in which you have the Assets will be the order in which they playback subject to any specific playback attributes you set. You can drag the Assets around when they are on the timeline to put them is the order that you require.
3) Clicking on the 'Properties' icon will allow you to set Asset specific playback attributes that affect just that Asset. Leaving the Start Date, End Date, Time Range, Day(s) of the week and Tags blank will mean that this Asset will play continuously in a loop along with other Assets that have no attributes set.
4) After setting up your schedule, a Force Update must be sent to the player to download and write the schedule on the player. Please see: How Do I Force Update Players